Image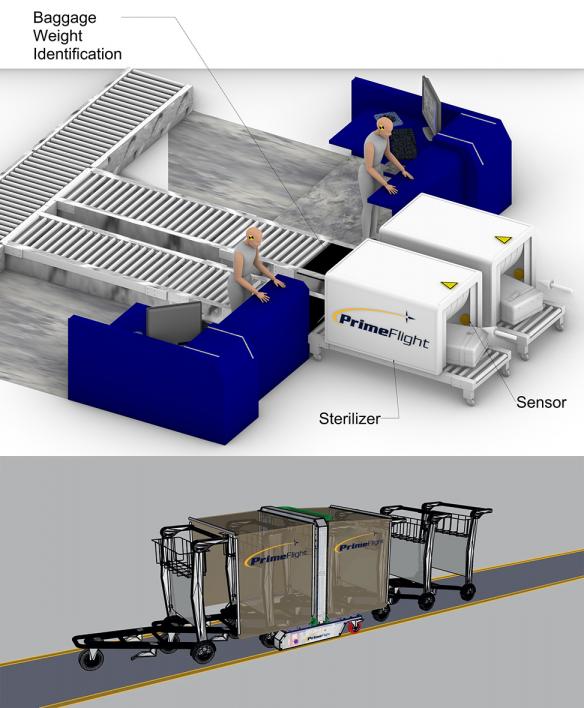 Title
LEVERAGING UV-C TECHNOLOGY
Subtitle
Unique designs tailored to the aviation industry
Intro text
Integrating UV-C technology, our unique PrimeFlightUV™ surface sterilization designs are tailored to the aviation industry. UV-C lamps have been shown to be effective in inactivating microorganisms such as bacteria, viruses, mold and pathogens. This proven technology is trusted in medical facilities, water treatment and the food and beverage industry today. Surface sterilization benefits include:
With an average life of 10,000 hours, the 95-watt UV lamps used in our unique designs are low maintenance
UV-C light can process an entire room in less then 5 minutes and a small area in 3-5 seconds through targeted application
Surface sterilization can give your passengers peace of mind and help you protect your team members, ensuring that cargo, baggage and equipment is clean as it moves from point A to point B
Each design features UV filter covers and curtains to keep users safe
Title
UNIQUE MODULAR DESIGNS GIVE FLEXIBILITY
Intro text
Our patent-pending PrimeFlightUV surface sterilization units can be used in a number of ways to help you protect your team members and passengers. With the ability to mount onto current systems, or stand alone with stationary or wheeled legs, our surface sterilization solutions were built to meet your changing needs. Some units have multiple size configurations, or we can build to meet your needs to ensure they will work across your operations. Our surface sterilization units include modules for:
Portable Sterilization Solutions

Baggage Handling Equipment Sterilization: Can be used in conjunction with your current GSE and help you meet your goal of loading clean baggage onto your aircraft
Carosel Baggage Sterilization:  Can be used in conjunction with your baggage carousel system to clean baggage before it is returned to passengers
Passenger Facing Equipment Sterilization: Its adjustable height allows for multi-purpose use; it moves through guides on the ground, using light sensors to adjust direction, and a wired remote allows for safe operation away from equipment

Conveyor Belt Sterilization Solutions

Cargo & Conveyor Belt Sterilization: Our extendable modular system was built to fit multiple equipment sizes and can be mounted on legs or it can be side mounted directly into your current system
Check-In Area Sterilization: Due to its mobile, wheeled design, it can easily be added onto current check-in systems or used for induction point sterilization
Security Check-Point Sterilization: With a transportable frame, this easy to incorporate unit will help you protect agents when screening baggage
Carry-on Sterilization: Can be used at the gate area to clean baggage; its high visibility increases passenger confidence and can reduce the chance of contamination to high touch areas that are not always sanitized during turn cleans such as aisle arm rests and overhead bins
Patents Pending. Copyright©2020 PrimeFlight Aviation Services, Inc. All rights reserved.